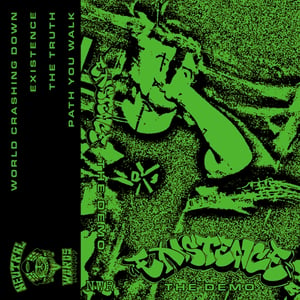 £

3.00
Another stunning band shredding their way out of Sweden, Existence purvey all that is good about early 90's era NY when crossover was rampant and things got weird when grunge strated to blossom. Expect chorus, riffs and groove that will make your butt shake.
Pressing info:
NWR #023
Black /50
Gold Glitter /30
Listen here:
https://neutralwordsrecords.bandcamp.com/album/nwr023-existence-the-demo
Itunes
http://itunes.apple.com/album/id1205396936?ls=1&app=itunes
Spotify
https://play.spotify.com/album/7GCIADQGr5wL7m8l9Mi8n0
For Distro info contact us here:
neutralwordsrecords@gmail.com
WORLD WIDE SHIPPING AVAILABLE.