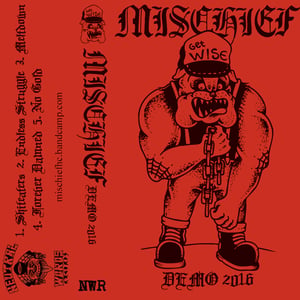 £

3.00
HARDCORE HOW HARDCORE WAS MEANT TO BE. FAST, ANGRY, GRITTY.
Mischief are one of the young bloods of Germany making a quick trip via Brazil. Carrying a lot influences from 80's Boston and NYHC making this a perfect wrecking ball for destruction. Recorded as a two piece earlier this year, this demo proves that if you want to do a band to just go and do it.
Pressing info:
NWR #022
Black /50
Blue /25
Yellow /25
Listen here:
https://neutralwordsrecords.bandcamp.com/album/nwr022-mischief-2016-demo
For Distro info contact us here:
neutralwordsrecords@gmail.com
WORLD WIDE SHIPPING AVAILABLE.